Creating Community at the International Journalism Festival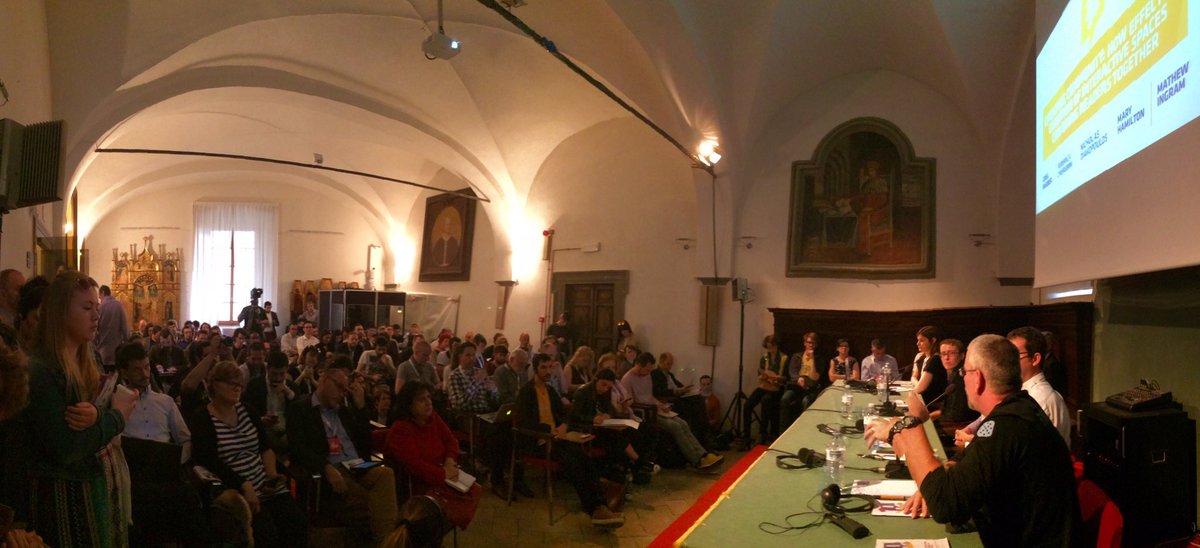 (Photo credit to Andrew DeVigal)
Last week I had the pleasure of attending the International Journalism Festival in Perugia, Italy – a distinctly medieval town wherein we discussed decidedly modern issues about the future of journalism. In its 10th yearly incarnation, the event attracts throngs of journalists from across Europe, and the world, eager to learn about the latest in the field. I participated in two panels, one called "Can a Robot Do My Job?" (No, obviously) and another about "Creating Community", which I'll recap in this post (you can also watch the video here). Creating Community was a discussion between Greg Barber (The Washington Post), Mary Hamilton (The Guardian), Mathew Ingram (Fortune Magazine), myself, Nick Diakopoulos, (University of Maryland), and moderated by Federica Cherubini.
Greg kicked off the panel by defining community as an "interaction among people" including sharing of information, and acknowledging the range and diversity of types of communities that emerge around news information. Mary spoke about serving different types of community on The Guardian including communities around shared circumstances, desires, aspirations, and needs. Each of those types of communities can be served in different ways, sometimes by meeting and finding communities that are forming in other (off-site) places. Mathew spoke about the ideal or fictitious community that we all think exists, but doesn't really. Communities are filled with real human beings, some of whom are flawed. The struggle of media companies is to deal with the community they have rather than some ideal community.
For my part I spoke about some of the ways that algorithms might be able to shape community. In particular to help (1) filter out the low quality (profane, vulgar, inappropriate) stuff, (2) surface and highlight the really great comments, (3) identify and build social context that can inform moderation decisions, and (4) alert moderators to threads or articles where "having an adult in the room" might be good for getting the conversation back on track. The Coral Project is working on some of these problems, and other tools, like KeepCon can help with moderating out the low end. My own project at UMD called CommentIQ is focused on trying to automatically rank comments based on editorial quality criteria so that really good and interesting comments can be surfaced.
A key point of discussion that emerged was what to do about the context collapse of so many different types of communities operating in what is essentially the same public space on news websites. From a design perspective you can have small communities and large communities, communities with high turnover or low turnover, and indeed communities that only need to be around for a day versus those that could last a lifetime. Different people can have vastly different motivations for being in an online news community: some want more facts, others want to be entertained, or to test their opinion out and develop their identity. Essentially there are a multitude of communities on any given news site, and each of those communities might need different feeding and care. Each of these types of communities potentially demands a different suitable design such as in the way contributions are moderated, in the use of "real" names or anonymity, and in the "rewards" that people are seeking in their community interactions. In terms of designing an online community it's hard to be everything to everyone all the time.
Underlining the discussion about design challenges for creating a successful sociotechnical commenting system was this simple observation: News organizations first need to define what they want to do with their online communities. What's the strategy? It's only when news organizations get past the simple conceptualization of comments as something you hang off the bottom of the page, and start thinking about them as something that's there strategically, that they'll be able to reap the benefits and rewards of cultivating relationships with the individuals in those communities.